News Archive
Movie Night - How to Train Your Dragon 3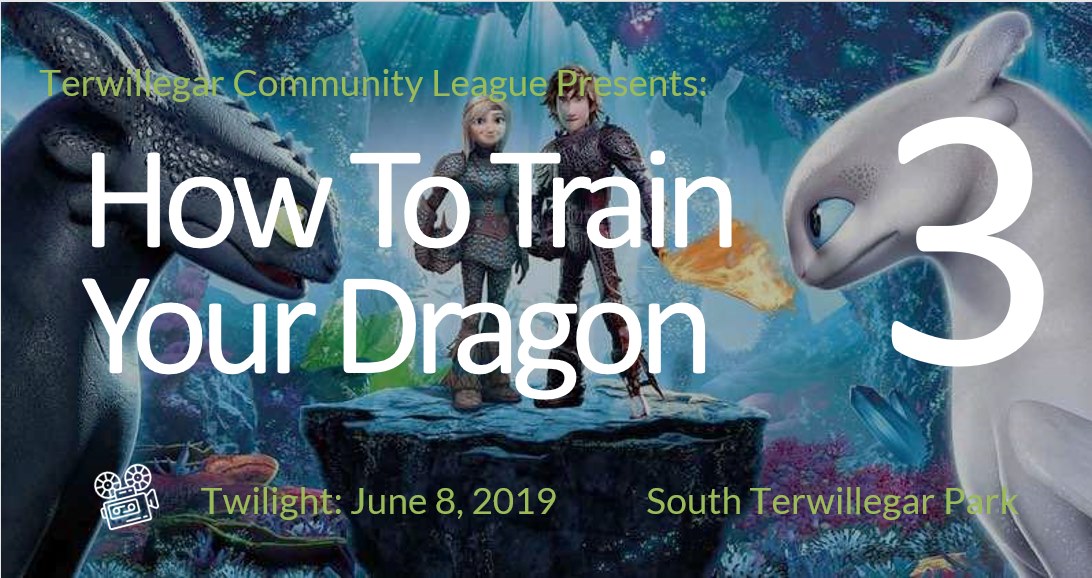 Join us for an outdoor movie on Saturday, June 8th for How to Train Your Dragon 3! (Rescheduled from Jun 1st.)
Time: 9:30 PM - 12 AM.
Location: 7210 South Terwillegar Dr NW
Bring Your Own Seat and Bug Spray. Dress for the weather.
Click to view the Facebook Event
Easter Coloring Contest
Residents of Terwillegar, Magrath, South Terwillegar and MacTaggart who are between the ages of 2 & 11 are invited to participate in our Easter Coloring Contest!
Prizes will be awarded to first place and runner up in the age categories of 2 - 4, 5 - 7 and 8 - 11.
All entries must be received by May 10, 2019. One entry per child.
Click here to download your entry for coloring!
Casino Volunteers Needed
TCL has a casino on May 1 and 2 at the Starlight Casino (West Ed) and we still need volunteers. A casino typically raises $75-80k and needs around 40 volunteers, so filling one volunteer shift helps raise approx $2k for the community. Prior casinos have helped pay for all 4 playgrounds and the spray park. If you are able to help please email me at treasurer@terwillegar.org, and thank you in advance for your help!!
Provincial Election Forum
Edmonton-Whitemud constituents are invited to submit questions for candidates prior to April 8, 2019.
Your Community League, in conjunction with TRAC invites league members and Edmonton-Whitemud constituents to come out and meet the candidates as they present their platform and take part in a moderated Q & A session.
Provincial Election Candidates Forum:
Date: Thursday, Apr. 11, 2019
Time: Doors Open at 6:45, Discussion 7-8:30 pm
Place: Terwillegar Community Church (1751 Towne Centre Blvd NW)
There is no charge to attend.
Edmonton-Whitemud Constituents are invited to submit questions for potential candidates to townhall@riverbendonline.ca. Questions will be selected from those submitted, and asked by a moderator during the forum, with each candidate given an opportunity to provide an answer. Not all submitted questions will be selected
This Town Hall is an exercise and celebration of Democracy. We ask that everyone attending be respectful of all candidates and each other. Partisan signs are not allowed, and those violating decorum will be immediately asked to leave the premises.
For more information, please contact:
Miep Raedschelders
President, Riverbend Community League
president@riverbendonline.ca
I'm Too Big For It Sale - April 2019
The TCL Semi-Annual I'm Too Big For It Sale is back!
When: Saturday, April 6, 2019 from 10 am - 1 pm
Where: Terwillegar Community Church – 1751 Towne Centre Blvd.
Tables are still available. To get a table please complete and submit a vendor application. View the application for more details and contact information.
Recent Events
Sep 24 2022: I'm Too Big for It Sale
Sep 8 2022: Casino Fundraiser
Sep 8 2022: Starlight Casino Fundraiser 
Aug 20 2022: Summer Movie Night
Aug 13 2022: Summer Carnival
Jul 23 2022: Summer Movie Night
Jul 1 2022: Canada Day
Jun 25 2022: Summer Movie Night
Jun 11 2022: Community Garage Sale 2022
Jun 11 2022: Community-Wide Garage Sale!
May 7 2022: Community Clean Up Challenge
Jan 24 2022: TCL Annual General Meeting 
Dec 18 2021: Snow Valley Ski Night