News Archive
Nellie Carlson Playground
Hi there neighbour, my name is Cory and I am the fundraising coordinator for the Nellie Carlson Playground, which will be located right next to the brand new Nellie Carlson School at 4110 MacTaggart Drive.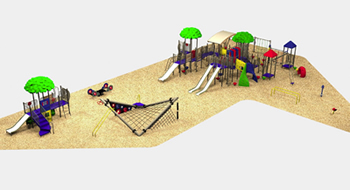 I have some exciting news to share; we have raised over $500k for this project, and are now within $40,000 to get this playground built. Even more exciting, if we are able to get this final $40,000 by the end of June we will be able to have the construction started in July for the playground to be built for September, right in time for the kids to enjoy it when they start their year at Nellie Carlson School.
I fully acknowledge that timing is not great. We all know what is going on in the economy, and many of us are hurting. That being said, this is the 4th park that Terwillegar has taken on over the last few years, and we are so close to the finish line... I know we can come together as a community if everybody pitches in.
If you would like to donate, please download the donation form and make your cheque out to "City of Edmonton" and reference: "Terwillegar Community League Parkland Development Donation".
You can mail it to us at: Terwillegar Community League PO Box 36508, MacTaggart RPO, Edmonton, AB T6R 0T4
In addition, we have recognition options available for donations of $1,000 and above. It is the perfect way to pay tribute to a loved one or otherwise leave your family's mark on the park. If you are interested, please give me a call personally at the number below.
For more details about the school visit the Nellie Carlson page on the EPSB website.
Let's get this last playground built, and thanks very much for your consideration.
Cory Janssen Fundraising Coordinator, Nellie Carlson Playground mactaggartplayground@terwillegar.org 780-982-5472
Terwillegar Video Game Championship
What you need to know:
Four rounds of video game mayhem – to crown Terwillegar's top gamer.
Each round will feature a different game to test a different skill-set – so make sure you brush up.
There will be a maximum of 64 participants in this year's field, with priority entry for those who provide a TCL membership number. No age restrictions; adults are welcome to be embarrassed by their younger peers.
Participants will need to be at the field by 8:30 PM to sign in, with games starting at 8:50 PM.
Game system and games to be announced ...
Famoso Fundraiser - Aug 18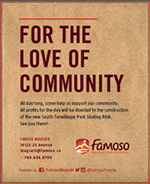 For the love of community ... Join us at the Magrath Famoso on August 18! All day long, come help us support our community. All profits for the day will be directed to the construction of the new South Terwillegar Park Skating Rink. See you there!
Summer Carnival 2016
Join us at the South Terwillegar Park on Saturday, August 13th from 11 am - 3 pm for our summer carnival, raising funds for the South Terwillegar Park outdoor rink!
$10 per kid, $20 max per family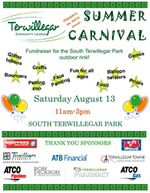 Gets you all of:
Hotdog, drink and chips for each kid
2 x balloon twisters
2 x face painters
2 x glitter tattoo artists
Nail painting artist
Petting zoo
Draws for over $500 in gift cards
Free handouts galore
Carnival games with prizes
Pony hop race
Bouncers
And much more being added every day! Come check it out, every dollar made will be used towards building the South T outdoor rink.
Rescheduled: The Force Awakens
Please note that our outdoor movie event showing The Force Awakens has been rescheduled to July 16th due to inclement weather.
Recent Events
Sep 24 2022: I'm Too Big for It Sale
Sep 8 2022: Casino Fundraiser
Sep 8 2022: Starlight Casino Fundraiser 
Aug 20 2022: Summer Movie Night
Aug 13 2022: Summer Carnival
Jul 23 2022: Summer Movie Night
Jul 1 2022: Canada Day
Jun 25 2022: Summer Movie Night
Jun 11 2022: Community Garage Sale 2022
Jun 11 2022: Community-Wide Garage Sale!
May 7 2022: Community Clean Up Challenge
Jan 24 2022: TCL Annual General Meeting 
Dec 18 2021: Snow Valley Ski Night